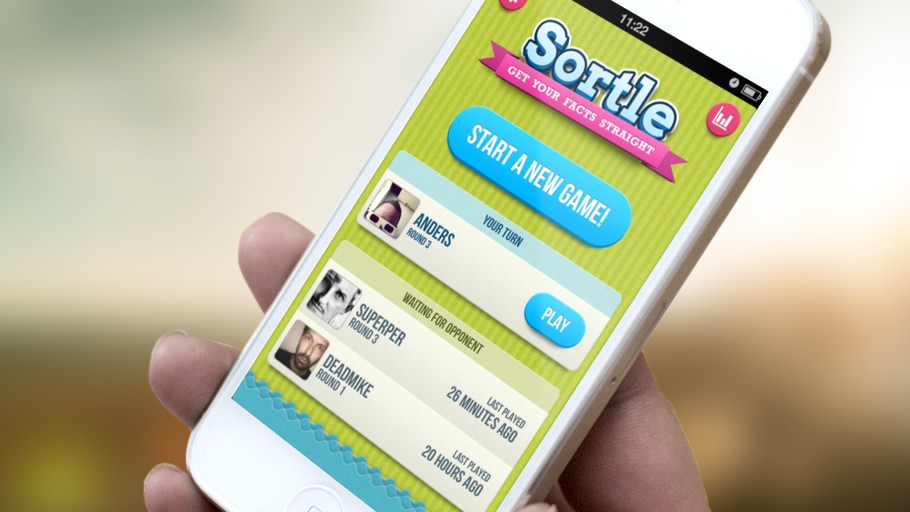 SORTLE
Sortle is all about sorting things in the right order. Which is higher, longer, faster, older or more expensive etc.. you get the point.
Challenge your friends in a Trivia game where you don't really need to know the correct answer, just have an idea of how things relate to each other.
For instance, how tall is Tom Cruise? If you're not a huge Tom Cruise fan you probably don't know the answer, but you might know that he is shorter than both Katie Holmes and Nicole Kidman? And probably a lot taller than an Ewok! Or ok, at least a little bit taller than an Ewok?
You might not know exactly how old the pyramids are, but you probably know they were built before World War II and after all the dinosaurs died? But is it older than all the other Wonders of the World or not?
Challenge your friends - Find or invite them. Connect to Facebook to see which of your friends are playing Sortle. Got no friends? Don't worry, you can even play against random people.
Use the chat function to congratulate, to gloat or get to know your opponent. Heck, you might even find the future love of your life if you're as smooth in the chatroom as you are talented at sorting.
So, what are you waiting for? Become a Sortler and get you facts straight!
Sortle is available for free for iPhone, iPod and Android devices.
TRAILERS
GALLERY
"I love the buttons in Sortle - I want to lick them"
Anders Mårtensson - CTO
FEATURES
* 1000+ questions - more than 10.000 items to be sorted in the correct order
* 7 fun categories - what's your Achilles heel? I bet it sports.
* Challenge your friends - Find/Facebook/Contacts
* Play against random Sortlers
* Chat with you opponents
* Push notifications informing you of opponent's last move
* Learn as you play! - ok, that's not really a feature.. or is it?
* Awesomely catchy music - in fact it's so awesomely catchy that we probably should warn you
* Available for both Android and iPhone
WARNING
* Awesomely catchy music
UPGRADE and…
* Play an infinite number of games simultaneously
* Get statistics of all your games. Total score and you vs friend score.
* Get rid of those tiresome ADs!
* Feel good about yourself for supporting the developers of this awesome game (Do you believe in Karma?)
FREQUENTLY ASKED QUESTIONS
"THAT CAN'T BE RIGHT?!"
Found a question that you think is incorrect? Please let us know! We strive to only have accurate data from reliable sources but sometimes there are conflicting information out there
Waiting for confirmation e-mail
Are you trying to log in with e-mail but you don't recieve our confirmation e-mail? This might be why:
* Something is wrong with your connection or our server - Please try again
* You might have misstyped your e-mail adress - Please start over
* Our e-mail is stuck in your Spam filter - Please check

If it still doesn't work please contact us: support@colormonkey.se
I've got a good Sortle-question for you guys!
We are more than happy to receive new, fun, tricky, hard, easy questions from our Sortlers out there. Just send us an email at sortlequestion@colormonkey.se with the following information:
* The question
* 6-10 items to be sorted
* A link to where you got the information (We strive to only have reliable sources)
* Your name and where you're from - We want to make sure you get credit for your question!
I still need more help!
Send us en email at support@colormonkey.se and we'll help you out as soon as possible!
"Our first tagline was
"You know when you've been Sortled"
but we quickly dissmised that idea since it made no sense what so ever"
Mikael Peterson - Creative Director